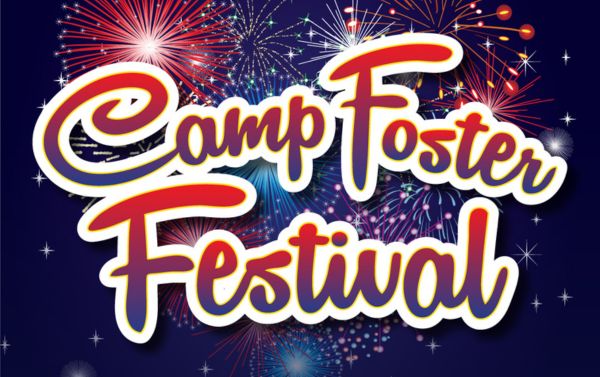 Date
Saturday, July 1, 2023 - Sunday, July 2, 2023
Time
Address
Wear a patriotic outfit and come celebrate Uncle Sam's birthday at Camp Foster Festival—a two-day entertainment extravaganza complete with a fireworks display and bursting with family fun, carnival rides, a military static display and a plethora of food options—on Saturday, July 1 and Sunday, July 2 from 1 to 9 p.m. both days.
Festivalgoers can feast on savory, smoked meats from Hickory House, freshly grilled American-style burgers from Bulldogs, cheesy and sizzling-hot pizzas or Miami-style inspired fare from 305 Latin Bistro. A total of 20 local food trucks and food vendors, as well as game and retail booths will be on hand. In addition, MCCS' food trucks—La Cocina and Chef Shack—will be serving authentic simplemente deliciosa street tacos and burritos and gourmet hot dogs, respectively. Patrons 20 years of age and older can enjoy refreshing adult beverages from Kanpai Lounge. In addition, Bonsai Coffee, located inside the Community Center Auditorium, will be open for patrons to stop by to get an ice-cold coffee or tea.
You might want to choose the ice-cold beverage because this year's entertainment will be sizzling-hot! Autumn Kings—a pop/rock band that boasts over 20 million plays on streaming platforms—will be performing July 1 at 5:15 p.m. R&B band based in Osaka, Japan "Neighbors Complain," will be dropping their grooves July 1 at 4 p.m. and July 2 at 7:30 p.m. And, on July 1 at 7 p.m., American rock legends Sugar Ray will close out Saturday night with a bang—fireworks will light up the sky at 8:30 p.m. following the performance. If the fireworks show on Saturday is cancelled due to inclement weather, it will be rescheduled to Sunday at 8:30 p.m.
Foster Festival is open to SOFA ID card holders, Japanese and Americans island wide. Non-SOFA access is available via Gate 5 (Commissary/Kitamae) and Gate 6 (Legion)—please be prepared to show a picture ID. Pets, outside alcohol, glass bottles, coolers and cameras with a zooming capability of 400mm (8x) or more are prohibited from festival grounds. Gate 4 (The Spot) and Gate 7 (US Naval Hospital) will be open for outbound traffic from 8:45 to 9:45 p.m.; all other gates will have normal operating hours for both inbound and outbound traffic.
FunLand wristbands will be available for purchase for $10 or ¥1400.
This year's Foster Festival is sponsored in part by USAA.