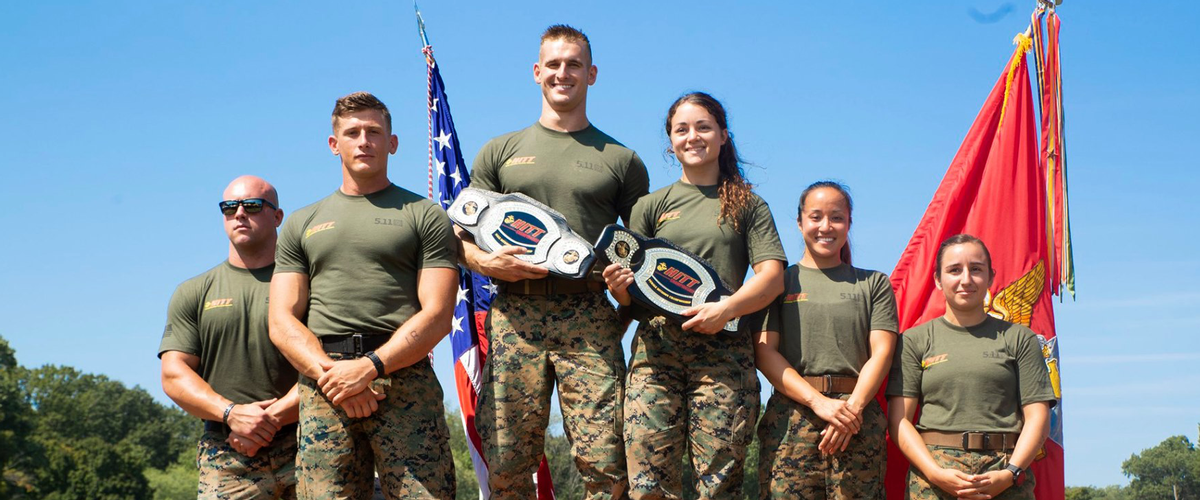 ---
This year's High Intensity Tactical Training (HITT) Championship event has concluded, and the champions have earned their titles! The championship took place from September 9 through 12, 2019, on MCB Quantico. These were four long, hard days for the participating warrior athletes.
The closing awards ceremony held on Thursday, September 12, was attended by the athletes, friends, family, Semper Fit and HITT staff, and MCCS staff from the installation and headquarters levels . Opening remarks by MCB Quantico Commanding Officer, Col William Bentley, kicked off the ceremony, followed by the funny awards, presented by HQMC Semper Fit and Recreation Chief, Col Sarah Fullwood. The funny awards included special prizes for categories like most vertically challenged, human compass, and wrecking ball, based on the participating athletes' characteristics and notable events throughout the challenges they competed in.
After remarks from Deputy Commandant of Manpower and Reserve Affairs, LtGen Michael Rocco, emphasizing the importance of the HITT program and its focus on combat fitness, Semper Fit staff, led by HQMC Combat Fitness Program Specialist Jake Alexander, presented this year's champions with their awards.
Check the HITT Facebook Page, MCCS HQ Facebook page and MCCS HQ Twitter for highlights you may have missed.
And now, meet your HITT 2019 Champions!
1st Place Male Champion: Sergeant Kevin Fisch (Camp Pendleton)
1st Place Female Champion: Corporal Alexandra Martin (Camp Butler/Okinawa)
2nd Place Male Champion: Sergeant Antony Gates (29 Palms)
2nd Place Female Champion: Captain Stefanie Allen (Quantico)
3rd Place Male Champion: 1st Lieutenant Tyler Watkins (Camp Lejeune)
3rd Place Female Champion: 1st Lieutenant Frances Moore (Iwakuni)
In addition to the first, second, and third place champions, a motivational award, voted on by the athletes, was presented to the individual who continuously motivated everyone to keep pushing. Throughout the challenges, you could spot her shouting encouragements, doing penalty burpees alongside fellow competitors in between her own turns, and motivating others through their obstacles.
Motivational Award: Gunnery Sergeant Smathe Toles (New River)
Congratulations to all the participants for a job well done, and representing some of the best talent of the Marine Corps!
Until next year, Semper Fi.
More photos from the Championship are available on Flickr.
A special thank you to this year's event sponsors for helping pull off a fantastic championship:
5.11 Tactical, Pedialyte, Beaver Fit, AUSFIT, RavenCrest Tactical, T-Mobile, Bravo Sierra, Normatec, Rock Tape, Theragun, DeCA Commissaries, Laser Shot, and Marpo Kinetics
West Virginia University Rockefeller Neuroscience Institute for the technology used to collect physical data on athletes during performance