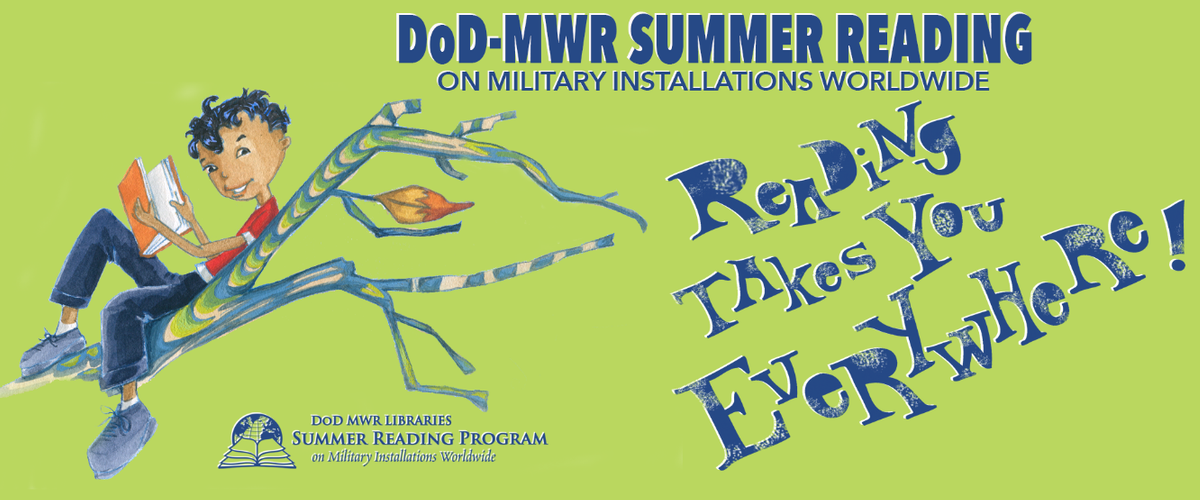 ---
Throughout the summer months, installation libraries will host a range of free activities, programs, and the opportunity to read for prizes for school age children to encourage and support a love of reading. This summer, most MCCS libraries will host a summer reading event based on the theme, "Reading Takes You Everywhere." Activities will include kick-off events, special programs, and other activities based on this year's theme, which encourages the reader to travel to places, other worlds, and dimensions outside of their normal life and awaken their imagination. Register your child at your installation library, begin reading, help them record minutes read, and earn prizes throughout the summer.
While the main focus of this program is school age children, many of the MCCS Libraries will also offer reading programs for toddlers, teens, and adults. Please check with your local installation library for details on programs for other age groups.
In addition to the fun, there is also a serious side to encouraging your children to read throughout the summer. A study from Dominican University found that summer reading prevents reading skills loss or the "summer slide." Studies also indicate children who read recreationally academically outperform those who don't. Children also read more when they can choose materials based on their own interests.
Another Summer Resource: the DOD Virtual Summer Reading Program
Not near an installation? No library at your duty station?
Check out the DoD Virtual Summer Reading Program. This new online reading program is designed for Active Duty, Reserve, and National Guard children and teens who do not have an installation summer reading program nearby. Help your child pick a reading goal and log reading minutes in the online reading log. The more you log, the more prizes you can earn.
Our libraries are committed to supporting lifelong learning and educational enrichment for all families. For more information, contact your installation library. Still searching for more in-depth assistance with summer reading? Contact your installation's library staff.