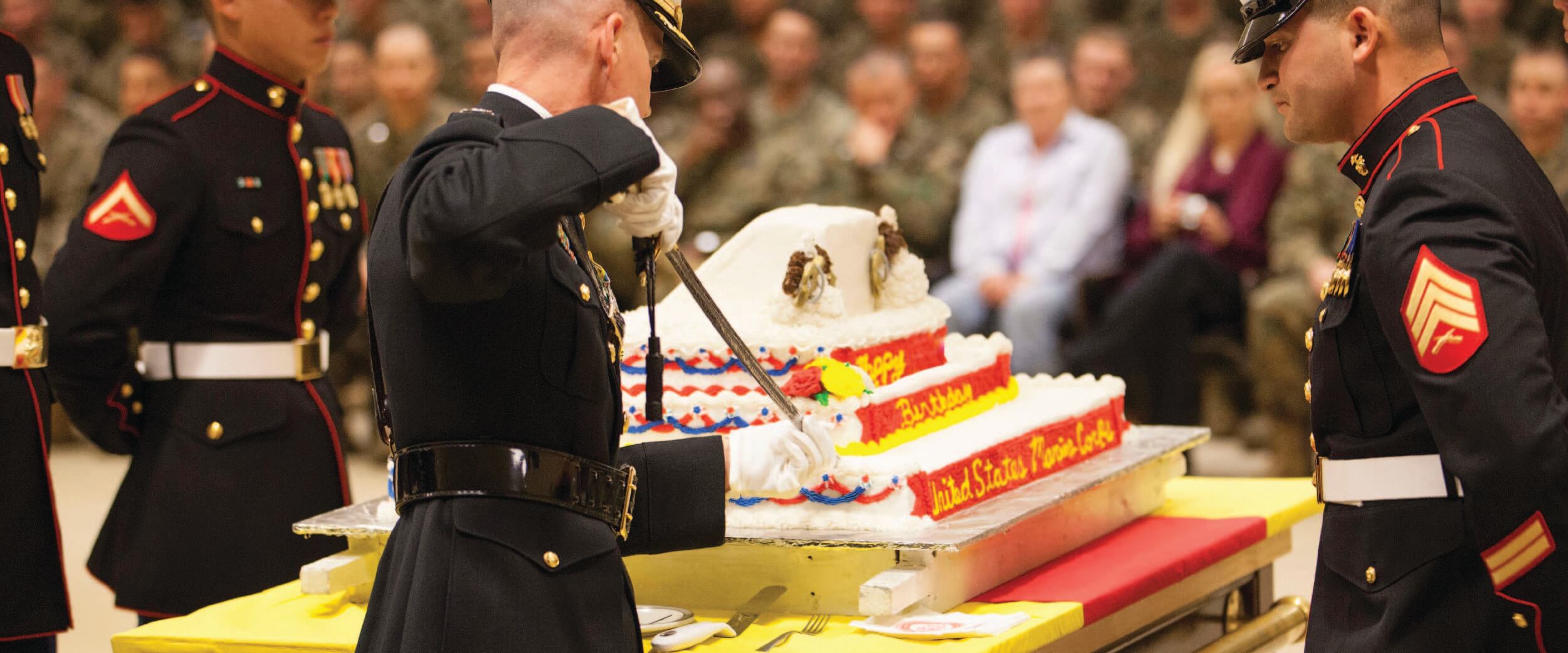 ---
The Birthday Ball is one of the biggest events on the Marine Corps calendar. It is a chance to get dressed to the nines, enjoy an evening of tradition, and celebrate the history of the Corps.
As the Ball is a formal affair both Marines and guests are expected to behave appropriately and follow rules of proper etiquette. If you are attending the Marine Corps Ball for the first time you are sure to have many questions running through your mind. What should you wear? How should you behave? What does 'proper etiquette' mean anyway?
Do wear something appropriate for the occasion. A simple way to choose an outfit is to base it on the uniform your service member is wearing. As Marines will be wearing their Dress Blues, female guests should select a floor-length gown to match the formality of the dress uniform. Male guests should wear a suit and tie or tuxedo.
Do be respectful of tradition. One of the highlights of the evening is the ceremony. This usually lasts around an hour and involves a cake cutting ceremony, speeches, the reading of General John A. Lejeune's birthday message, and a birthday message from the current Commandant. Make sure you are seated before the ceremony begins and refrain from texting or talking while the ceremony is taking place. While photography during the ceremony may be allowed at some Birthday Balls, please check to ensure it's acceptable at your event.
Don't drink more than you can handle. While the Birthday Ball is intended to be a fun occasion, it is still a professional event for Marines. Give yourself a limit for the number of drinks you will have and be sure to space them out throughout the evening. If you do decide to drink, create a plan in advance to ensure you are able to get home safely.
Do be polite. Always remember to say 'please' and 'thank you', and address others as 'Sir' or 'Ma'am'.
Do remember to have fun. The Marine Corps has a proud and illustrious history. While it is important to be on your best behavior at the Birthday Ball, don't forget the purpose of the evening; to celebrate the Corps and all of its accomplishments.
Now that you know the Do's and Don'ts of Marine Corps Birthday Ball etiquette it's time to put on your best (appropriate) outfit and attend your local Birthday Ball. It is sure to be a night to remember. If you have more questions about Birthday Ball Etiquette or just want to learn more about Marine Corps culture, contact your local L.I.N.K.S. office. L.I.N.K.S. offers acculturation classes to help you adjust to life in the Corps and at your local installation. Courses are available to spouses, Marines, children, and other family members. Click here to discover what courses are available near you.