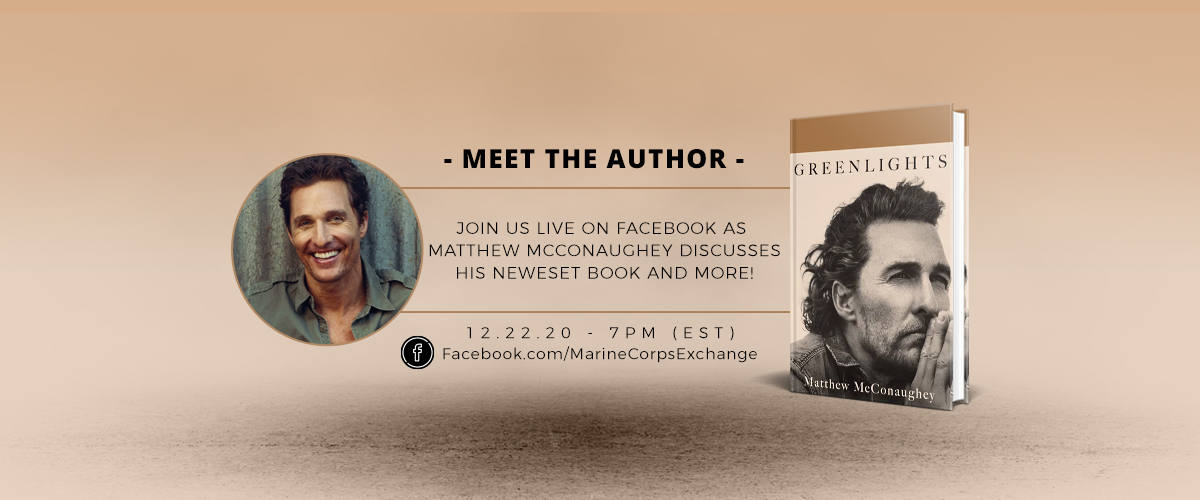 ---
Academy Award-winning actor Matthew McConaughey, author of Greenlights, will be featured in the second series of the MCX Book Club: Cover to Cover premiering on Tuesday, December 22nd at 7 p.m. (EST) at www.facebook.com/MarineCorpsExchange. In this light-hearted, conversational style interview, McConaughey provides insight and reflections into his new book Greenlights as well as exploring his writing processes, discussing resiliency and discipline. McConaughey even reveals what's next for him!
Written with candor, humor, and profound insight and humility, the uniquely McConaughey Greenlights is an unconventional portrait of an unconventional artist and a wise road map to navigate a life of more greenlights—one that recognizes that the red and yellow lights eventually turn green, too. In Greenlights, readers will learn about many of the adventures and formative moments in McConaughey's life, and the sense of meaning he's found through his philosophy of the same name. From growing up as an adventurous kid in a tough-love Texas home of rule breakers, to revelatory journeys to Australia, Peru, and Mali, to his early days in Hollywood and meteoric rise to fame, McConaughey shares how his life experiences have instilled in him the importance of competent values, the power of new experiences, and as he puts it, "either changing your reality or changing how you see it."
Greenlights is on sale now at your local Marine Corps Exchange (MCX). The MCX has a limited number of copies with a signed bookplate at select locations.
About the Author: Academy Award-winning actor Matthew McConaughey is a married man, a father of three children, and a loyal son and brother. He considers himself a storyteller by occupation, feels better with a day's sweat on him, and is an aspiring orchestral conductor. In 2019, McConaughey became a professor of practice at the University of Texas at Austin, as well as Minister of Culture/M.O.C. for the University of Texas and the City of Austin. McConaughey is also brand ambassador for Lincoln Motor Company, an owner of the Major League Soccer club Austin FC, co-creator of Wild Turkey Longbranch and founder of the Just Keep Livin Foundation.