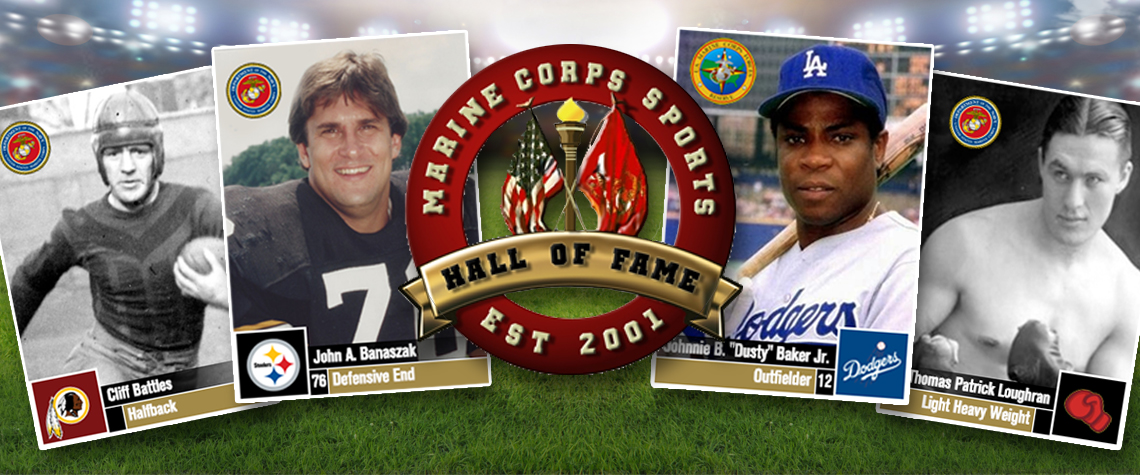 ---
Perseverance, determination, honor: the basic tenets of athleticism are core values that every Marine upholds. That theme held true Wednesday July 12, when the Marine Corps honored its 2017 inductees to the Marine Corps Sports Hall of Fame, at the Marine Corps Museum. "Most of us consider ourselves athletes. It's part of what we do as Marines…[Tonight's awardees] helped lay the groundwork for Marine athletes today.. It is on their shoulders we stand," said 37th Commandant of the United States Marine Corps Gen. Robert B. Neller. "These inductees did great things in the Corps…but remained above all, Marines."
Four sports legends from across the spectrum were honored: 1937 NFL Championship Redskins Football Player Clifford Battles (family accepted on his behalf); 1991 International Boxing Hall of Fame member Tommy Loughran, known as "The Phantom of Philly" (family accepted on his behalf); current Robert Morris University Head Football Coach John Arthur Banaszak; and the current manager of the Washington Nationals, Johnnie B. "Dusty" Baker.
Each individual expressed a deep gratitude to their time spent as Marines and spoke about the lasting effects their service had on their futures. Melissa St. John, Battle's granddaughter, said, "It's miraculous. So many years after his achievements, it's still brought his family together." Loughran's nephew, Tom Dooley, talked of Loughran's great love for the Corps: "He did not have to go into the Marine Corps. He wanted to....They believe in being the ultimate athlete," he said.
But what does being the ultimate athlete mean for Marines? For each awardee, it meant carrying the values they learned as a Marine into civilian life. Banaszak noted the Marines affected nearly every aspect of his civilian career. Banaszak spoke of attempting to walk on to the football team at Eastern Michigan University. He had not been seen by any recruiters, nor did he have a scholarship. Yet the coach of the team was a Marine who had served in the Korean War, which he felt gave him a chance. "We shared that bond," he said. Banaszak added that, "Along with honor, courage, and commitment. The USMC has given me the burning desire to win and taught me how to lay it on the line every single day."
Baker sent in an acceptance video due to his ongoing work as manager of the Washington Nationals. Baker's service also shaped his life (see video below). Being a Marine affected his coaching style, he said. He learned the balance between being tough, but at the same time being sensitive to each of his men's needs. "I learned a lot about teamwork," he said. "You may not like someone. You may not like his race or his religion, but you're on the same side. You have to work together to survive."
Learn more about the Sports Hall of Fame or other fitness activities at your installation, contact your Semper Fit and Recreation branch.